Closest to Villa Dawn and Caribbean Breeze
"The Party Never Stops...Until You Do!"

The party never stops here on the north shore! We are perched on a cliff overlooking the Caribbean. Sit at the bar and take in our amazing views. Let your hair down and join the wild side of life. Have your favorite drink while you enjoy the best slow smoked BBQ pork, chicken, and beef you'll ever sink your teeth into. Try our award-winning ribs. All our meats are smoked on site. We also have a great selection of appetizers, sandwiches, steak, and fish. Great live music Tuesday - Sunday around noon to whenever the party stops!

Look for us on the North Shore, across the street from the corner store. Go down our long driveway and get ready to have a Rockin' Good Time! Plenty of well lit, free parking. Check out our Facebook page for our current music schedule. 340-718-1100
Located across from the beach. Eat @ Cane Bay is fun dining in a sublime & relaxed atmosphere. Build your own salads & burgers from plain Jane to gourmet, hand-cut fries & onion rings, slow roasted pulled pork & brisket, and a menu for the kids that even parents approve of! Inspired specials flow from the kitchen of locally famed chef Frank Pugliese. Highlights include food shots, fresh fish & hand cut steaks. Eat's drink list features many rum drinks, a diverse wine list & many selections of beers including Belgians.


Sunday Reggae Brunch served from 11am-4pm. Build your own benedicts, Creative crepes, bananas foster pancakes, & classic burgers. Hang afterwards & enjoy styling's of local Reggae bands from 2ish to sunset Quarterly "New Moon" Parties. Lunch & dinner 11am -9pm, closed Tuesday. 340-718-0360
www.eatatcanebay.com

Off the Wall Bar and Grill - 340-778-4771 - Pizza, Sandwiches, Salads, Specials, etc. Open daily from 11:00 a.m. to 9 p.m. VISA & Mastercard accepted.
Classic beach bar at Cane Bay Beach. Great menu of food and drinks, live music, volleyball and much more. Come and enjoy a day at Spratnet, located on one of the best beaches on St. Croix! Tourists that arrive by taxi and spend $20 or more get 10% off their taxi fare!

Sunday Pig Roasts - Every Sunday afternoon from 1:00PM to close. Each Sunday a traditional, island-style pig roast. Live Music and lots of fun for the whole family!

Full Moon Party - Once a month, on or near the full moon. From 7PM until...Dance the night away on the beach under the moon and stars. Fantastic live music and delicious dinner specials!

Serving Breakfast, Lunch and Dinner, Happy Hour from 5 to 7 Open seven days a week. 340-719-8485
Rowdy Joe's - 340-718-0055 - by the corner store. Great food, wireless Internet, watch your favorite sports, homemade ice cream.
The Waves Hotel Restaurant - 340-778-1805, Within walking distance of Villa Dawn, this restaurant has all the atmosphere! It is not called the Waves for nothing...as you sit in a beautiful setting adjacent to the waves crashing on the rocks.
Personal Chef Service - Catering
Bubble Makers - 340-719-7201 Mobile: 340-277-6219 - Full Service vacation planning and event services.
Schooner Bay Market - 340-773-3232 - Schooner Bay Market Place offers provisioning services for both locals and visitors. Whether it is fully stocking your vacation rental prior to your arrival, or assisting in the weekly shopping that few of us have time for, we are here to make your life easier. We will stock your fridge and pantry with almost anything you'll need. From the basics to prepared gourmet meals, salads, ready-to-grill fish and meat, and picnic lunches for the beach. We have a complete supermarket and liquor store to choose from.

Download our quick shopping list, then fax or email us your choices. We'll even arrange delivery upon request. To get started, click here or to go to our website click here.
Christiansted
Angry Nates Boathouse & Seafood Emporium
The food, water view, ambiance and affordable prices of this restaurant located in St. Croix's town of Christiansted makes this one of the island's favorite restaurants. Angry Nates is housed at the Holger Danske Hotel, right on the boardwalk.

Happy hour, starting at 4:30pm, offers half price beer and well drinks and Cruzan rum and cokes for $2.00. Local fishermen bring us the catch of the day including Tuna, Wahoo and Mahi Mahi. Our menu includes traditional American fare with fresh Caribbean flavors as well as daily specials that include but are not limited to Thai, Spanish and Mediterranean. Dine among local artwork, watch the boats and seaplane come and go from our waterfront dining room. We serve breakfast, lunch and dinner seven days a week and offer affordable prices with a beautiful view. Reservations recommended during high season. 1-340-692-6283

It's safe to say Angry Nates is not more of the same ole' same ole'!
---

Bombay Club - Steak, Chicken, Seafood, Pasta, and more, 340-773-1838 (this is not Indian food as the name suggests) MC, VISA.
Dashi - 340-773-6911 - Specializing in Sushi. Over 30 different Maki-Sushi Rolls

Fort Christian Brew Pub – Pub food, Steaks, etc. St. Croix's only fresh brewed beer! On the boardwalk overlooking the harbor. Mondays enjoy free draft beer with your steak dinner.

Harbormaster Beach Club, 340-773-2035 ext. 450 Beach bar and restaurant - At Hotel On The Cay in Christiansted Harbor. On Tuesday night there is a beach barbeque floor show - a feast of delicious roast pig. chicken, ribs, and fish buffet served from 7 to 10 p.m. as you watch limbo and broken bottle dancing, fire eating, mocko jumbie stilt dancing, and dance to the music of the steel band. Call for reservations. AX, MC, Visa

Harvey's - 340-773-3433 - local Caribbean food, mutton stew, curried goat, fish cakes, pates. Don't leave St. Croix without trying some "real" local food...give it a try! Don't be afraid to go on in...the prices are great, the people are friendly and the food is wonderful.

Kendrick's - 340-773-9199, Seafood, Meat, Pasta - They are open Tuesday thru Saturday from 6 to 9:30 pm. Chose from an assortment of appetizers, pasta dishes, or delicately seasoned entrees of fresh local fish or a house specialty of duck, pork loin, and lamb. A fine wine selection by the glass or bottle. AX, MC, VISA

Paradise Café – 340-773-2985 - Continental - On Queen Cross street just off of Company Street in Christiansted, is a cozy air-conditioned spot for a reasonably priced breakfast, lunch, dinner and cocktails all quite good. Open Monday thru Saturday from 7:30 am to 10 pm. No credit cards.
Rum Runners - 340-773-6585 – Continental, Prime rib and steaks, Lobster, Seafood - Waterfront at Caravelle Hotel in the center of Christiansted. Open for breakfast lunch and dinner 6 days a week, Sunday brunch 10 - 2, Happy hour 4 - 6 PM. Reservations appreciated, all major credit cards accepted.

Savant - 340-713-8666 - Thai, Mexican, and Caribbean

Singh's - 340-773-7357 - West Indian/Caribbean
Comanche Mill Yacht-Less Club - located on the boardwalk in Christiansted

The Mermaid Restaurant
The Mermaid is located beach side, at the Buccaneer Resort, with an extensive menu of savory seafood and specials, soups, salads and sandwiches, and gourmet meals that include all-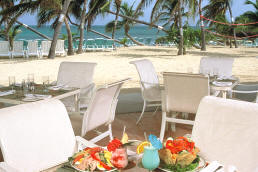 American favorites, island specialties and vegetarian. There is also a full bar, including frozen island favorites and vintage cocktails.
The Mermaid Restaurant is open for casual, beachfront lunch and dinner. We have ample parking. Call for reservations. 340-712-2100
The Terrace Restaurant in the Buccaneer Great House offers fine dining nightly. Reservations please. 340-712-2100
email: concierge@thebuccaneer.com for reservations.
www.TheBuccaneer.com/dine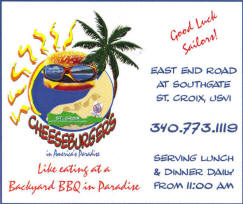 Cheeseburgers in America's Paradise - Great burgers, burritos, chicken sandwiches, chili dogs, nachos, chili, steaks, salads plus daily specials that include fresh fish and pastas. For dessert try our homemade rum cake, key lime pie and brownie ala mode and delicious soft serve ice cream.

Enjoy your meal with your favorite beverage from our full bar. A very popular place with tourists and locals alike. There is live music Thursday thru Sunday. Only a 10 minute drive from historic Christiansted. Wait till you have one of our burgers while listening to some fun island music!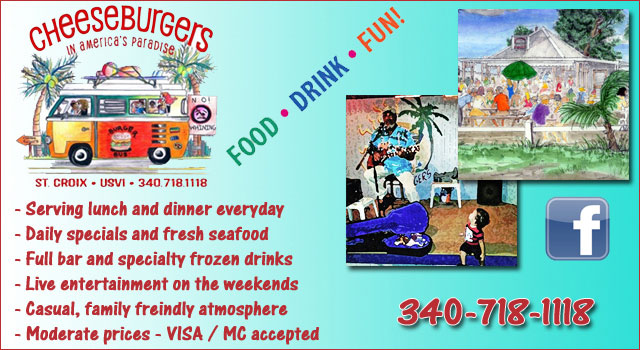 Cheeseburger's menu is available 11am to 10pm,
seven days a week for lunch and dinner.
MC, VISA 340-773-1119

"The best Cheeseburgers in the Caribbean!"
Topside Restaurant and Quarterdeck Bar - 340-719-4838

ITALIAN AMERICAN & CARIBBEAN CUISINE

Experience homemade pastas, succulent veal and seafood dishes with fabulous desserts and wines at the Cultured Pelican restaurant. All selections on our menu are prepared fresh daily from the finest ingredients available. It is a combination of my family's enduring recipes as well as my chef's imaginative flair.

We hope you will enjoy our fine food, good spirits and tropical ambiance.

Daily specials feature a selection of the freshest seafood and other local produce. The best pizza on St. Croix is available for take-out. Open for dinner seven days a week (5-9pm), and a truly relaxing tropical Sunday brunch 10am-4pm. MC, VISA, AMEX
1-340-773-3333, www.CulturedPelican.com


Deep End Bar – 340-773-4455 - Beach bar at the Green Cay marina. Burgers, sandwiches, soups, salads. Locals and tourists agree that Deep End is a fun place to be! AX, MC, VISA, DC.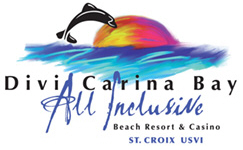 A Wide Range of Dining Choices to Suit Any Mood in St. Croix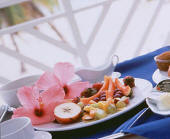 The Starlite Grille serves breakfast daily against the breathtaking views of Carina Bay.
Casual dining is available at the Dockside Café and Deli - a colorful, market-style setting just steps from the beach. The Dockside Café serves breakfast, lunch, light snacks and dinner daily.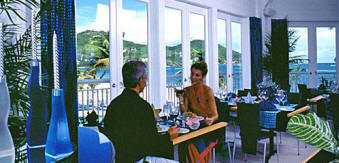 On Thursday nights, enjoy our Caribbean Beach Bar-B-Que which hosts local cuisine, vendors, and live music. A new restaurant is now open to satisfy those Italian taste buds. East End Pizza is an open-air pizza restaurant serving pizza, calzones, panini sandwiches, and a variety of salads and appetizers Wednesday thru Sunday.

1-340-773-9700, 877-773-9700, www.DiviCarina.com/Dining
Duggan's Reef - 340-773-9800
The Galleon - 1-340-773-9949
Mahi's at Chenay Bay Resort - 340-773-2918 ext. 316 - MC, Visa
back to table of contents

South Shore Café – 340-773-9311 - corner of route 62 and route 624 on the south shore of the island. Cozy open-air country bistro with gourmet dining, casual prices and intimate setting. Mediterranean, Seafood, Vegetarian, hand-made pasta. Reservations recommended, VISA only.
The Golden Rail Cafe - 340-719-1989 - Breakfast, lunch, and dinner.

Morning Glory – 340-773-6620 - Coffee House, Beignets, muffins, sandwiches, wraps, salads.


No Bones Café – 340-773-2128 - Seafood, Mexican
Pizza_Mare - 340-773-3663 - Pizza, hot Italian meals
Tutto Bene – 340-773-5229 - Caribbean Cafe with an Italian accent

Breezez Beach Bar- 340-773-7077
H2O at Hibiscus Beach Resort - With breathtaking views from the seaside dining room and lounge, even locals proclaim, "This is why we're in the Caribbean" each time they come back!
Contemporary cuisine in a setting straight out of a postcard ~ Our Beachfront, Oceanside Restaurant is surrounded by stunning beach, the sounds of crashing waves, and magnificent horizon vistas of aqua blue waters with infinite blue skies. Our Restaurant is convenient to our hotel guests and is also popular among local Islanders.

LOW SEASON HOURS - September and October 2011

Breakfast -7:30 am to 10 am daily; Lunch - 11:30 am to 2 pm;
Dinner - 5 pm to 8 pm daily
(reservations for parties of 4 or more accepted until 9 pm)

Bar Hours: 11:30 am to Closing (9, 10, 11 pm or till whenever...)
Website: H2O - Reservations welcomed. 340-718-0735 MC, VISA, Discover, Amex.

Salud! Bistro - 340-718-7900 - Join us nightly for award winning Mediterranean cuisine, great wines, creative cocktails, friendly service, homemade breads and desserts, terrific espresso and cappuccino, and St. Croix's most unique dining experience!
Mid-Island

Barren Spot Bar-B-Que - 340-778-9798 - At the Village Mall

Gertrude's – 340-778-8362
Frederiksted

The Blue Moon is located in the historic
Victoria House at 7 Strand Street in Frederiksted on the waterfront. They offer fine dining with an eclectic Cajun flair as well as the best Jazz on the island, performed by world-class musicians. Their wine list is extensive and they have been voted best brunch on the island by The V.I. Daily News.

Join them Wednesday and Friday nights and Sunday Brunch for live Jazz and Blues. You are encouraged to make reservations for dinner as seating is limited. No reservations are accepted on Sunset Jazz Fridays, but the mood and atmosphere after the sun sets on Sunset Jazz Fridays is relaxed, fabulous and extremely friendly, leaving you good friends with all the most important and influential people in St. Croix who all come for a little extra Jazz. You can be assured that a trip to The Blue Moon will provide you some of the most fantastic food as well as some of the friendliest service on the island. This eclectic, open-air waterfront bistro provides fantastic sunsets, charming atmosphere and some of the finest food on St. Croix. VISA and Mastercard accepted.
Tues-Fri 11:30am – 2:30pm and 6 – 10pm, Sat 6 – 10pm, Sunday Brunch 11-2:30 pm Jazz & Blues
Reservations by phone only: (340) 772-2222
Beachside Cafe at SandCastle On The Beach - 340-772-1205 - Soups, salads, seafood, poultry, pasta. Enjoy your dinner with one of St. Croix's best sunsets! Gay friendly restaurant and resort. VISA, MC and Travelers Checks accepted, Reservations recommended.
Lost Dog Pub - 340-772-3526 - King Street, Frederiksted, Dinner Wednesday - Sunday
Pizza nightly 5-10pm, plus Wed-Sunday a selection of pasta dishes and other traditional Italian-American cuisine.
| | |
| --- | --- |
| | Montpellier Domino Club - 340-713-9052 - Located on Route 76 (Mahogany Rd.) in the rainforest. Great food, drinks and entertainment. Home of the famous "Mama Wanna" and the beer drinking pigs! Daily food special. One of the coolest bars you will ever see! Norma, the bar's owner, is always there with a big smile and some great home cooking. Try the sweet & hot sauce with some of her chicken. On Wednesdays and Thursdays, she makes some of the best burgers anywhere. Each day Norma cooks something absolutely delicious to eat! |

Pier 69 - 340-772-0069




RHYTHMS at Rainbow Beach...
an open air, local beach bar and restaurant on the beautiful west end of the big island of St. Croix, US Virgin Islands. We offer the simple living (beach-style) with great food, strong drinks, extraordinary atmosphere, awesome live music, friendly service and astounding (must see to believe) sunsets!

We are limin' seven days a week at Rainbow Beach.
Any questions? Call (340) 772-0002

Turtles Deli/Liquors - 340-772-3676 - Hot and cold sandwiches

Villa Morales - 340-772-0556
West End Grill - 340-772-2160 - Local & Latin Cuisine - Sunday/Monday-Closed, Tuesday-Boiled Fish & Fungi, Wedmesday-Baked Chiken & Kalalloo, Thursday-BBQ Ribs/Chicken & Baked Chicken, Friday-Saltfish&Dumplings & Roast Pork, Saturday-Souse&Potato Salad & Roast Pork - Cash or Travelers Checks Only. 330 King St. Downtown F'sted, Email westendgrill@yahoo.com

China Jade – 340-778-1996 - Good Chinese

Soul Vegetarian - 340-778-4080 - African, Caribbean, and American dishes

Johnny Mango's - 340-778-5556 - West Indian Barbeque; ribs, chicken and brisket, local Island favorites.


Click to send us your restaurant review!