Closest to Villa Dawn and Caribbean Breeze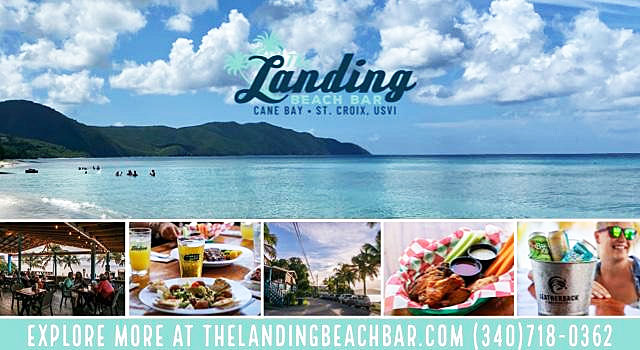 The Landing Beach Bar - 340-718-0362 - Cane Bay Beach on the North Shore isn't only one of the most beautiful areas on St. Croix…it's one of the most beautiful spots in the world! Serving Island drinks made just for you and a serious beer list accompany a fresh and diverse menu perfect in all seasons. Local cuisine at The Landing means a delicious sampling of American bar food, with a seafood flair and plenty of vegetarian and vegan options. MON: 11am-8pm, TUES: Closed, WED-SAT: 11am-8pm, SUN: 10am-6pm.
Off the Wall Beach Bar - 340-778-4771 - Pizza, Sandwiches, Salads, Specials, etc. Open daily from 11:00 a.m. to 9 p.m. VISA & Mastercard accepted.
Rowdy Joe's - 340-718-0055 - by the corner store. Great food, wireless Internet, watch your favorite sports, homemade ice cream.
Spratnet - 340-719-8485 - Classic beach bar at Cane Bay Beach. Food & drinks, live music.
Christiansted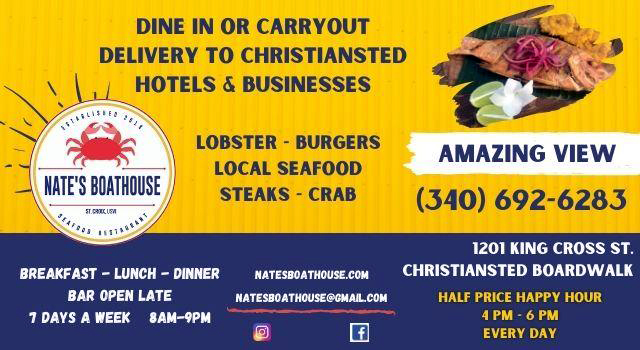 Nate's Boathouse & Seafood Emporium - (340) 692-6283 - We specialize in fresh seafood dishes cooked to perfection as well as many other tasty treats that are a perfect compliment to our unbeatable view of the scenic Christiansted Harbor. Serving breakfast, lunch and dinner 365 days a year. Enjoy the view while sipping on a cold, refreshing beverage during our HALF PRICE happy hour from 4:00 pm to 6:00 pm DAILY!
Bombay Club - Steak, Chicken, Seafood, Pasta, and more. (this is not Indian food as the name may suggest) MC, VISA.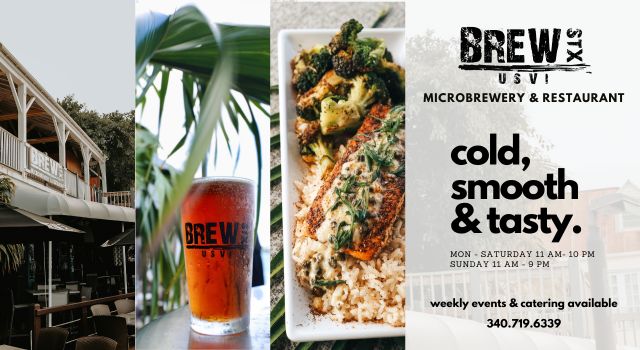 Comanche Mill Yacht-Less Club - located on the boardwalk in Christiansted
Dashi - 340-773-6911 - Specializing in Sushi. Over 30 different Maki-Sushi Rolls

Harbormaster Beach Club, 340-773-2035 ext. 450 Beach bar and restaurant - At Hotel On The Cay

Harvey's - 340-773-3433 - local Caribbean food, mutton stew, curried goat, fish cakes, pates. Don't leave St. Croix without trying some "real" local food...give it a try! Don't be afraid to go on in...the prices are great, the people are friendly and the food is wonderful.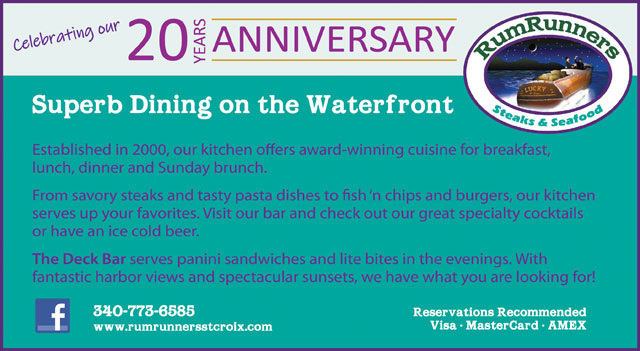 Rum Runner's - 340-773-6585 - Steaks, seafood, pasta and more. The best views, right on the waterfront. Open for Breakfast, Lunch, Dinner and Sunday Brunch. Reservations recommended. VISA/MC/AMEX

Rum Runner's Deck Bar - 340-773-6585 - Serving Panini sandwiches, light bites and cool cocktails. With fantastic harbor views and spectacular sunsets, we have what you are looking for! Open daily 4:00 pm-9:00 pm.

Savant - 340-713-8666 - Thai, Mexican, and Caribbean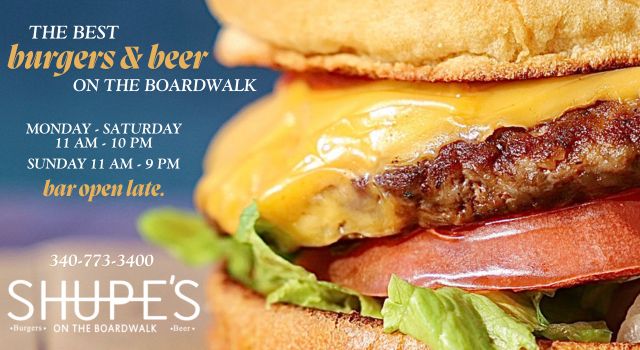 Singh's - 340-773-7357 - West Indian/Caribbean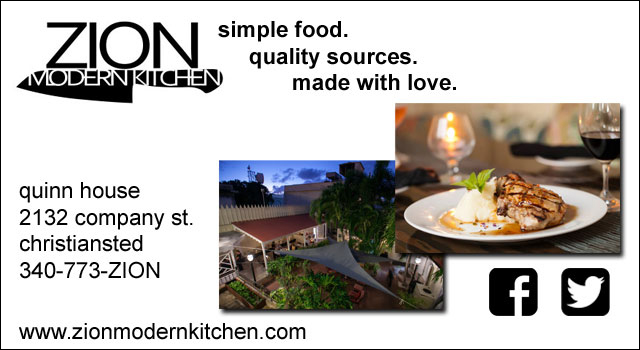 Zion Modern Kitchen - 340-773-ZION - simple food. quality sources. made with love. Our Mantra-Whether it's served on fine china or on a paper plate food brings us together and stimulates conversation. We feast to wed, mourn, celebrate, strengthen friendships, and simply to be hospitable. Good eating is one of life's great pleasures. Vegan options available. Open Wednesday - Sunday, 5-10pm, reservations recommended.
East of Christiansted and the East End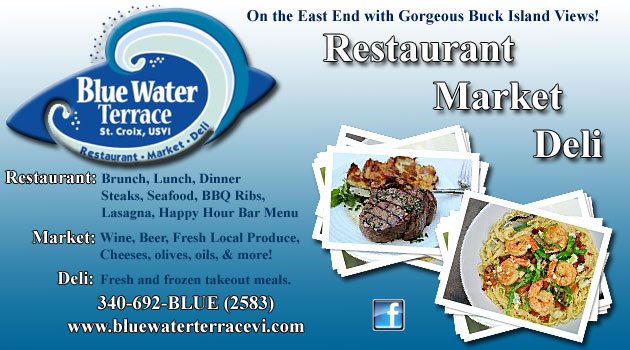 Blue Water Terrace - 340-692-2583 - Restaurant, Market, Deli. Great food with a spectacular view of Buck Island. Located on the east end. Don't miss this place! Open Friday Thru Monday 5pm - 9pm, Award winning Sunday Brunch 10am - 2pm, Closed Tues- Thurs, Open for Thanksgiving with three seatings at 12 Noon / 3:30 / 6:30, plus scheduled pick-ups. For regular menus and more information check out our website and/or facebook page.
Buccaneer Beach & Golf Resort Dining - Breakfast is as light as a fruit plate or as substantial as banana pancakes – all served complimentary with your room rate. Either way, the sea view is eye opening. Lunch is casual at the beach or pool with savory sandwiches, soups and salads. In the evening, island elegance prevails. Classic specialties, often with a tropical twist, may be complemented by the fine wine collection. The lights of Christiansted twinkling below infuse a satisfying sense of place. https://www.thebuccaneer.com/amenities/dining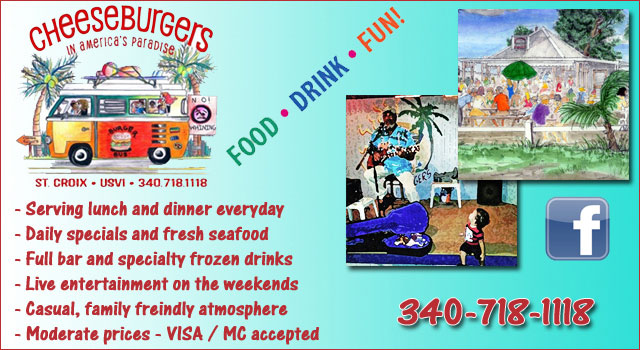 Cheeseburgers in America's Paradise - Great burgers, burritos, chicken sandwiches, chili dogs, nachos, chili, steaks, salads plus daily specials that include fresh fish and pastas. For dessert try our homemade rum cake, key lime pie and brownie ala mode and delicious soft serve ice cream.
Enjoy your meal with your favorite beverage from our full bar. A very popular place with tourists and locals alike. There is live music Thursday thru Sunday. Only a 10 minute drive from historic Christiansted. Wait till you have one of our burgers while listening to some fun island music!
Cheeseburger's menu is available 11am to 10pm,
seven days a week for lunch and dinner.
MC, VISA 340-773-1119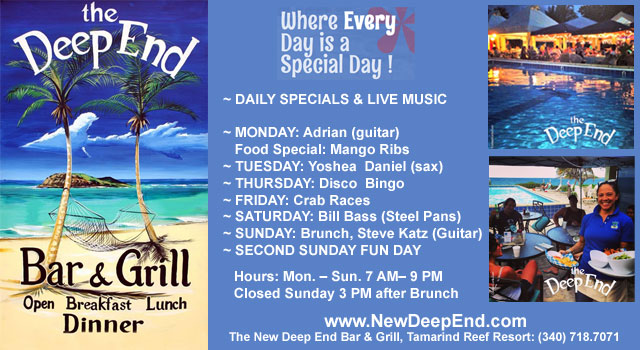 Deep End Bar and Grill – 340-773-4455 - Beach bar at the Green Cay marina. Burgers, sandwiches, soups, salads. Locals and tourists agree that Deep End is a fun place to be! AX, MC, VISA, DC.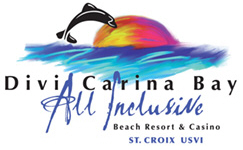 A Wide Range of Dining Choices to Suit Any Mood in St. Croix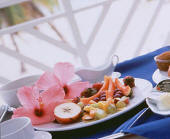 The Starlite Grille serves breakfast daily against the breathtaking views of Carina Bay.
Casual dining is available at the Dockside Café and Deli - a colorful, market-style setting just steps from the beach. The Dockside Café serves breakfast, lunch, light snacks and dinner daily.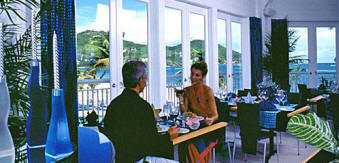 On Thursday nights, enjoy our Caribbean Beach Bar-B-Que which hosts local cuisine, vendors, and live music. A new restaurant is now open to satisfy those Italian taste buds. East End Pizza is an open-air pizza restaurant serving pizza, calzones, panini sandwiches, and a variety of salads and appetizers Wednesday thru Sunday.

1-340-773-9700, 877-773-9700, www.diviresorts.com/divi-carina-dining
Duggan's Reef - 340-773-9800
Sai Gon Deli - 340-713-1111 - Handmade Vietnamese Food on St. Croix. 2017 Taste of St. Croix Winner for Pho Bo (Beef Noodle Soup)! Fresh Ingredients, Full bar, Happy Hour Mon to Wed 4-6pm 50% Off drinks and food discounts, Catering available, To Go Orders. Located across the street from Canegata Ball Park.
Open: Mon-Thurs. 11-7pm, Fri. 11-9pm, Sat 4-9pm, We are closed on Wed.
No Bones Café – 340-773-2128 - Seafood, Mexican

Breezes Beach Bar- 340-773-7077
Seini's Golden Rail at Mill Harbour- 340-719-1985 - Breakfast, lunch, and dinner.
Un Amore - 340-692-9922 - Hand made pastas, pizza, fresh mozzarella, ricotta, local greens, fresh fish and homemade cannolis and tiramisu. We care about the food we prepare as much as we care about every guest that comes through our door.
Mid-Island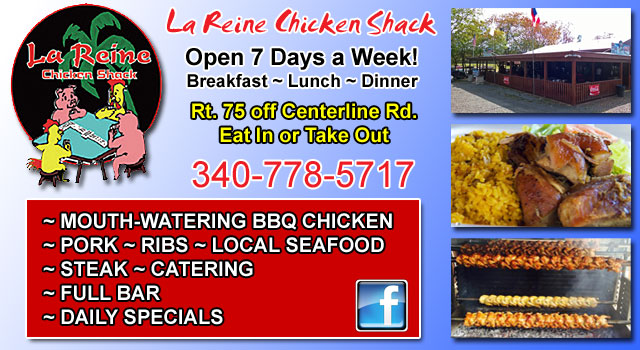 La Reine Chicken Shack - 340-778-5717 - Open Pit BBQ Chicken, Ribs, Steaks, Local Seafood, Open 7 days a week, breakfast, lunch and dinner. Monday through Wednesday, 10:30am till 6:00pm. Thursday to Saturday 10:30am till 8:00pm. Sunday 10:30am till 4:00pm. **We are closed the last Sunday of every month for maintenance. Rt. 75 off Centerline Road.
back to table of contents


Gertrude's – 340-778-8362
Frederiksted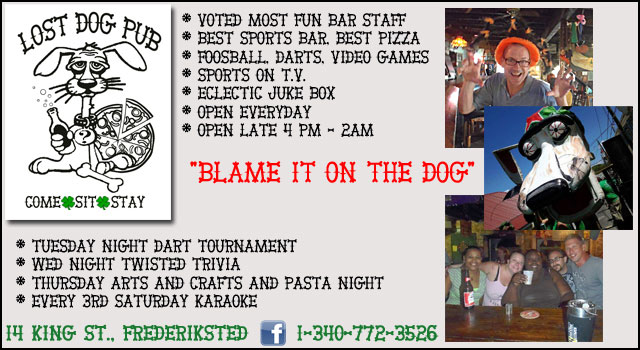 Lost Dog Pub - 340-772-3526 - Voted most fun bar staff, best sports bar and best pizza on the island! Besides our delicious pizza and other menu items we have Foosball, darts, video games, sports on TV and an eclectic juke box. Check out our specials. Open everyday, from 4pm - 2am. located one block back from the water front at 14 King St., Frederiksted, St. Croix. Come - Sit - Stay!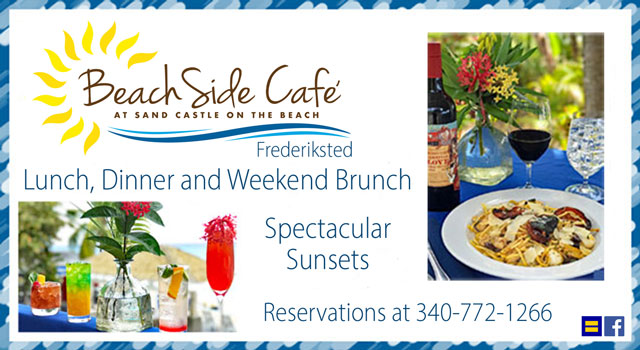 Beachside Cafe at Sand Castle On The Beach - 340-772-1266 - Soups, salads, seafood, poultry, pasta. Enjoy your dinner with one of St. Croix's best sunsets! Gay friendly restaurant and resort. VISA, MC and Travelers Checks accepted, Reservations recommended.
| | |
| --- | --- |
| | Montpellier Domino Club - 340-713-9052 - Located on Route 76 (Mahogany Rd.) in the rainforest. Great food, drinks and entertainment. Home of the famous "Mama Wanna" and the beer drinking pigs! Daily food special. One of the coolest bars you will ever see! Norma, the bar's owner, is always there with a big smile and some great home cooking. Try the sweet & hot sauce with some of her chicken. On Wednesdays and Thursdays, she makes some of the best burgers anywhere. Each day Norma cooks something absolutely delicious to eat! |

Pier 69 - 340-772-0069

Rythyms at Rainbow Beach - 340-772-0002, Burgers, wings, salads, fish
back to table of contents


Turtles Deli/Liquors - 340-772-3676 - Hot and cold sandwiches
Joe's Bar & Grille - 340-692-2020 - Italian

Soul Vegetarian - 340-778-4080 - African, Caribbean, and American dishes