There are many things of interest to be found on St. Croix for lovers of nature. Tourists visiting the islands will find that it is one of the best locations in the Caribbean for those looking for Eco-tourism.
St Croix Heritage Trail - This 72-mile driving tour connects our Caribbean island's historic sites and attractions and includes many significant natural areas. Historic marker road signs with the trail's brown and white sugar mill symbol guide visitors along the route which runs between Frederiksted and Christiansted, primarily along Centerline Road, extending north to Hamm's Bay in the west and Point Udall in the East.
Rainforest around St. Croix Leap
A 15 acre natural wonder that is privately-owned but open to the public.

St. George Botanical Gardens
A 16-acre complex that has the ruins of a 19th century sugar cane village and rum factory. There are more than 1,500 varieties of plants here. http://www.sgvbg.org/

Hiking
Try hiking around the east end beaches beyond Cramer Park Beach ( Caribbean Dream is just 15 from here) or the rainforest and hills surrounding Blue Mountains, which at 1,096 feet is the islands second highest point (Mt. Eagle is the highest, with 1165 feet).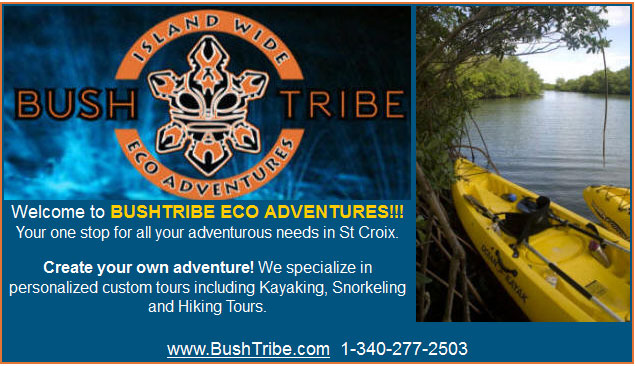 Bushtribe Eco Adventure Tours - 340-277-2503
Caribbean Adventure Tours - PO Box 5588 S.I. · St. Croix, USVI 00823
Toll-Free 1-800-532-3483 · St. Croix 340-778-1522

Olasee Davis conducts group hikes (30-person maximum) on Sundays and holidays at a charge of US$15 per person. The itinerary changes regularly. Contact him at 778-9491 or 772-0325.

The St. Croix Environmental Association (SEA) offers guided hikes into the Caledonia rainforest and in the Salt River National Park on a request basis. 340- 773-1989.

St. Croix Heritage Tours (guided) - 340-778-6997, 719-9079 - Custom tours through plantation ruins, lush tropical forest, quaint historic towns, sugar mills and massive forts.

Virgin Island Department of Tourism (self guided)
Christiansted -340-773-0495
Frederiksted -340-772-0357 (and info booth on Frederiksted Pier).

Safari Tours
Monday through Saturday, St. Croix Safari Tours offers a wealth of information on island history and botany: also environmental, political and cultural details. Photography opportunities. $25 per person,
St. Croix Safari Tours (Safari Van) - 773-6700, fax 73-3206

Also giving tours:
* Travelers Tours (Safari Van) - (340)778-1636, fax 778-7522

Turtle Nesting Sightseeing

Sandy Point National Wildlife Refuge (call them for details, tours, etc). The turtle nesting occurs at night.