St. Croix Sailing, Fishing, Golf, Water Sports and Sports
St. Croix is a paradise for water and sports enthusiasts, offering everything from sailing and motor yachting, swimming, snorkeling, and SCUBA diving to riding wave runners, water skiing, parasailing, windsurfing, sailing, sport fishing, horseback riding, tennis, golf and bicycle rentals.
There are several wonderful beaches including Cane Bay Beach (right in front of Villa Dawn); Davis Bay, Protestant Cay; Buccaneer, the Reef, and Cramer Park (all near Caribbean Dream) and Rainbow Beach. There are several other beaches that you can explore and find on your own. All beaches are public, even those at the hotels. Click here for more information on St. Croix beaches.
This is an 850-acre national park. In fact, it is the first national park to be located underwater. Two underwater snorkeling trails weave through its Marine Gardens. This is a great place for all snorkelers - beginner to advanced. Many various boating companies offer a variety of excursions to Buck Island. There is also a park with picnic areas. Boats depart from the Wharf area in Christiansted or Green Cay Marina. Half and Full day excursions available.
Sailing and Buck Island Tours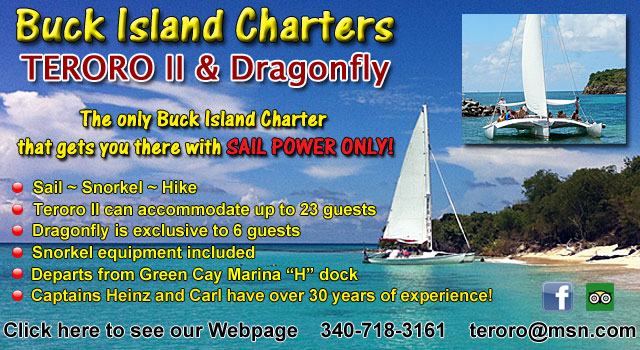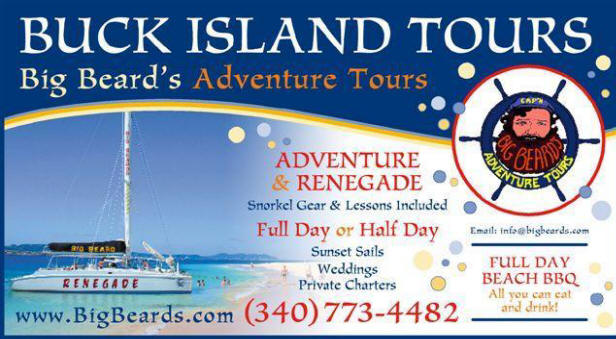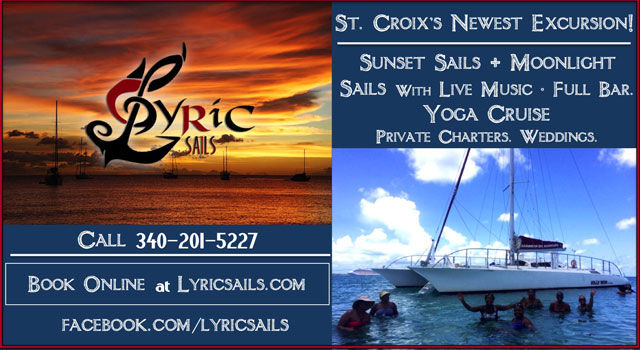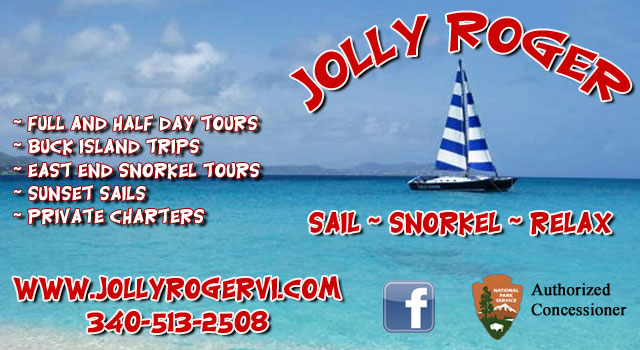 Big Beards's Adventure Tours - 340-773-4482 - Buck Island Tours, Snorkel Gear & Lessons Included. Full Day or Half Day Sunset Sails, Weddings, Private Charters. Full Day Beach BBQ...all you can eat and drink!
Bilinda Charters - 340-514-2270
Buck Island Charters - Teroro II & Dragonfly - 340-718-3161 - Sail with Captains Heinz and Carl to beautiful Buck Island where you can swim, snorkel and hike to the top of the island.
Jasmyn Charters - 603-781-9864
Jolly Roger Charters - 340-513-2508 - Sail, Snorkel, Relax! Full and half day tours, Buck Island Trips, East End Snorkel Tours, Sunset Sails, Private Charters.
Llewellyn's Charter - 340-773-9027
Lyric Sails St. Croix - 340-201-5227 - St. Croix's Newest Excursion! Lyric Sails is now offering private day sailing charters out of Frederiksted. We can take groups from 1-25 people. Rates start at $75 per person for a half-day trip, $100 per person for a full day trip. Itinerary is customizable and includes sailing, snorkeling shipwrecks and reefs, and just relaxing in the calm, tropical waters of Frederiksted. Snacks (half-day) and lunch (full day) and beverages are included. We also feature Sunset Sails and Moonlight Sails with live music! Full Bar. Yoga Cruise. Private Charter, Weddings. Book online at LyricSails.com
St. Croix Yacht Club - 340-773-9531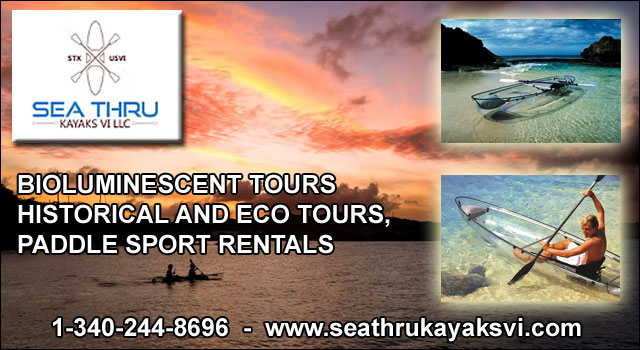 Sea Thru Kayaks VI offers nighttime guided kayak tours of the bioluminescent bay on St. Croix in the US Virgin Islands. Our tours launch from Salt River Marina at nightfall and utilize fully transparent "sea thru" kayaks to provide each guest with a uniquely unobstructed view of the waters around them, allowing each kayak to become fully immersed in the glowing bioluminescent wonder!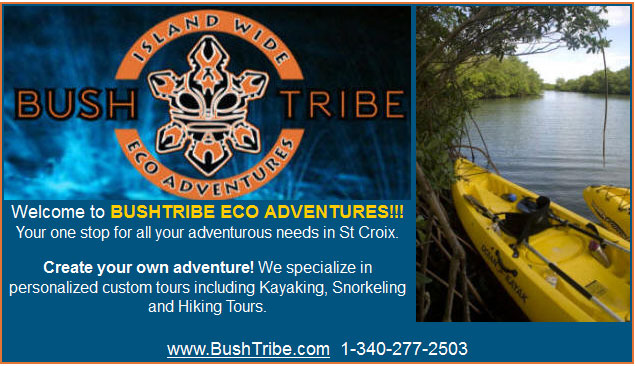 Bush Tribe Eco Adventures - 340-277-2503 - Your one stop for all your adventure needs in St Croix. Create your own adventure! We specialize in personalized, custom tours including Kayaking, Snorkeling and Hiking Tours.

Scuba aficionados consider St. Croix's northern coast to be some of the best scuba diving in the Caribbean, largely because of its spectacular wall diving. In particular, Cane Bay and Salt River Canyon offer experienced divers challenging

and beautiful diving destinations. The snorkeling is fabulous here as well - and Cane Bay Beach is right in front of Villa Dawn! Frederiksted, located on the west end of the island, also offers SCUBA divers some great dive sites. You can dive the pier and also some great wrecks. Boats leave from both Christiansted harbor and Frederiksted. In a Top 100 poll taken in "Rodale's Scuba Diving Magazine" readers rated St. Croix #4 overall for "Best overall destination, best visibility and value in the Caribbean, and the world's most popular destination" and # 2 for " best shore diving"! US Virgin Islands placed #2 for "best snorkeling"!
Day and night dives available. Prices run from $45 for a one-tank dive. For novices, instruction is available from many reputable dive shops.
Cane Bay Dive Shop - 5 minute walk from Villa Dawn and only an 10 minute drive from Caribbean Breeze! Open 7 days a week, packages for all levels 340-773-9913 8-7 p.m. Also a location in Frederiksted at 340-772-0715, 9am - 5pm.
Big Beard's Adventure Tours - Snorkel tours to Buck Island - 340-773-4482
Bushtribe Eco Adventure Tours - 340-277-2503, for more information click here.
Dive Experience - 340-773-3307 • 800-235-9047 - Located in Christiansted, This is one of our favorite dive shops for boat dives and is conveniently located just 15 minutes from Caribbean Breeze.
Teroro II - Snorkeling Trips - 340-773-3161
N2 the Blue Diving Adventures - Frederiksted -1-340-772-DIVE (3483)
St. Croix Ultimate Bluewater Adventures (SCUBA) - 877-567-1367, 340-773-5994
These waters are ideal for sport fishing and record size catches are common be it Tuna, Wahoo, or Blue Marlin. For a half or full day check out these fishing charters.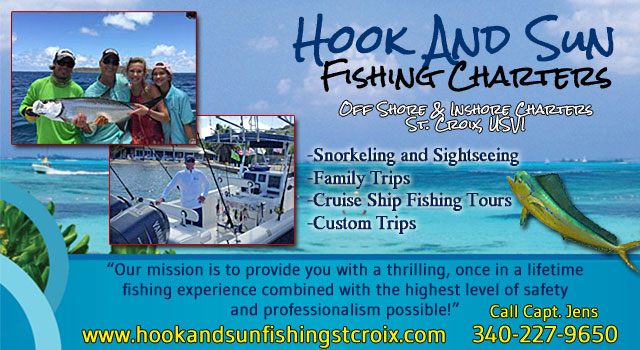 Hook and Sun Fishing Charters - Call Captain Jens Hookenson at 340-227-9650 - Off Shore & Inshore Charters - Snorkeling and Sightseeing, Family trips, Cruise ship fishing trips, custom trips. Our mission is to provide you with a thrilling, once in a lifetime fishing experience combined with the highest level of safety and professionalism possible!
CATCH 22

Imagine deep water only one mile offshore. We have been operating fishing charters from St. Croix for over 30 years and are known for our outstanding catches of: Dolphin, Tuna, Wahoo and Marlin. Join Captain Dave for a day of "catching" aboard Catch 22, a 38' Bertram wide body sport fisherman. CATCH-22 will take you to some of the best off shore fishing grounds in the Caribbean Sea!

Prices per trip: 6-hrs - $800.00, 8-hrs - $900.00


(Prices may vary according to fuel surcharges. All trips must be cancelled within 48 hours to receive a refund. If trips are not cancelled within 48 hours the credit card will be charged the full price of the charter.) Maximum Six (6) passengers. Trip includes: bait & tackle. All fish stay with the boat, but Capt. Dave will be happy to provide the angler's with a portion of the catch for dinner.

Captain Dave - 340-778-6987, Email: info@catch22stx.com
www.catch22stx.com
38" Fantasy - 340-773-2628
Captain Carl Holley - Silverbay Boat Dock, Christiansted Harbor - 340-277-4042
Golden Hook Fishing Club - 340-778-5738 Ext. 223

Golfers can go to three courses open to the public. The Carambola, a Robert Trent Jones designed course (closest to Villa Dawn-a 5 minute drive away), and the Buccaneer golf courses are both 18 holes, while the Reef Golf Course is nine holes. (click here for detailed course information)
Rates:
Buccaneer Golf Course - 340-712-2100 - 18 hole
Carambola Golf Club - 340-778-5638 - 18 hole
Reef - 340-773-8844 - 9 hole
Wave Runners, Paddleboarding, Windsurfing, Parasailing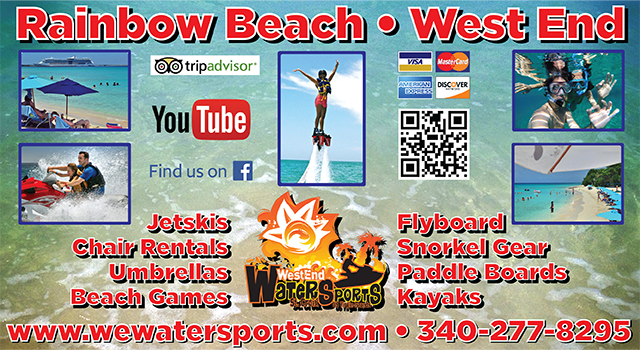 West End Water Sports - Call for pricing 340-277-8295 - Conveniently located just 1 mile north of the Frederiksted cruise ship dock. Our shop is right on Rainbow Beach next to Rhythms Beach Bar. www.wewatersports.com
Parasailing - Caribbean Sea Adventures - Phone: (340) 773-2628

Tennis buffs can find public courts near the Fort in Frederiksted (1 court) or at Canegata Park (3 courts - lighted) in Christiansted.
Several hotels will also allow non-guests to play for a fee. Call for reservations:
Buccaneer Hotel - 8 courts, 2 lighted. Tennis pro available for lessons. $8 PP per hour, 340-773-2100 ext.736
Chenay Bay Beach Resort - 2 courts, $5 PP per hour, 340-773-2918
Tamarind Reef Hotel - 2 lighted Cal Grass courts. $8 PP per hour, evenings $5, 340-773-4455
The Reef - 773-8844 $5 PP per hour, 340-773-8844

There is great riding in St. Croix that allows riders to go past Danish ruins, rain forests and other coastal areas.
Cruzan Cowgirls - 907-841-1990 - Come join us for horseback riding in St. Croix!
Equus Horseback Riding - 340-642-4567 - "Ride where the mountains meet the sea" - morning and evenings, reserve 24 hours ahead - Located close to Villa Dawn and only an 8 minute drive from Caribbean Breeze.
Paul and Jill's Equestrian Stables - 340-772-2880 or 340-772-2627 Closed Sundays
Croquet
Tamarind Reef Hotel - 773-4455: 6 wicket croquet court, open to public. $ PP for 11/4 hour. Call for reservations.